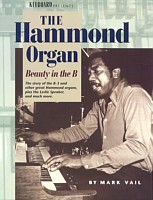 The Hammond Organ:
Beauty In The B

The Hammond Organ: Beauty In The B
(Click above to order)

This is the Hammond/Leslie bible. Anyone who even thinks about playing an organ, or using organ sounds should get this book. It has something for everyone, and the pictures, old catalog pages, and even old factory assemby photos alone (over 250 photos) are worth the price of the book. It is not just about the B-3, its about all models of Hammond Organs and Leslie Speaker Cabinets. The ten chapters are:

1. All Hail the King! (B3 Basics and a lot of cool history)
2. Down & Dirty (The Hammond B3's unbeatable mechanical soul)
3. Laurens Hammonds (All about the man who started it all)
4. Hammonds You May Have Known (Vital statistics on every Hammond organ made)
5. Buying & Maintaining a B-3 (What to look for, and what you can fix)
6. Don Leslie (All about the inventor of the Leslie speaker)
7. Tips from the Stars (Legends share their playing techniques)
8. Ahead of their Time (Keyboard relatives of the B3)
9. Contacts (Prophets, saviors, experts and others who can make your life happier)
10. Hammondography and an Appendix of Resources.(Details on musicians associated with Hammonds - Felix is of course mentioned!)

This truly is "THE" book dealing with every aspect of Hammond and Leslie history and everything else related to the Hammond organ. I love this book, and refer to it often!!